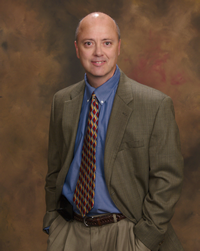 Robert Hammond Ministries was formed in 1991 and Robert has been teaching and preaching the Word of God since that time.  His travels have taken him as far away as South America where he ministered to the Ajute Jiro Indians along the Delta banks of the Orinoco River through 2 different interpreters.
Shortly after meeting the Lord in 1987, Robert began to minister to anyone who would listen to him.  He preached in the jails, prisons, streets, back alleys, hi-ways & bi-ways; whoever had a hungry heart and would listen.
Robert has always had a clarion call to "be as a voice of one crying out in the wilderness, prepare the way of the Lord, make straight in the desert a highway for our God." According to Isaiah 35:8, that highway is "the Highway of Holiness." The word "clarion" means "clear and distinct" and "ancient trumpet."
Robert's call is to make a clear and distinct trumpet call [to the Church].  Joel 2:1 says "Blow the trumpet in Zion (the Church), and sound an alarm in my holy mountain."
Robert has a heart to mentor other ministers in the deeper things of God.  He feels, based on experience, that many ministers are lacking concerning the deeper places in God, but that they really want to learn.  And this has led many ministers to seek out Robert and just simply learn from him.  Read what just a few of many ministers have said on our testimonial page.